Director of Faith Development's Messages
RSS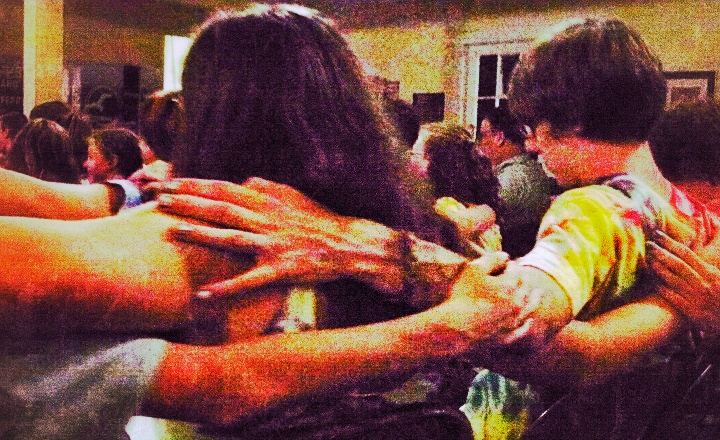 Hanging on the wall in my kitchen is a small, framed print.  I don't know the artist and it is not an original print.  But it is colorful and detailed and just makes me glad to look at it, over and over again.  If you were to look at it yourself, you'd be able to figure out that it is a scene of a family -- of many generations of a family -- in a room with a wooden floor, one picture on the wall, and a table, a bed, a stove, one lamp.  It is what the characters of this family are doing that is so compelling.  A woman is cooking with a wide smile on her face.  Children sit on the floor playing marbles.  Two adults are playing music -- one a fiddle and the other a washboard.  There is an elderly looking woman tucked cozily in a bed.  A man is sitting on the edge of the bed, holding her hand.  There is a cat curled up into a perfect ball on the end of the bed and across the room a dog jumps up for what looks like a tasty morsel being held by a teen's high, outstretched arm.  Oh, and there is someone sitting in a chair, reading a book.  Everything and everyone is there, together. 
I am a romantic in my longing for this perfect scene.  I am quite aware of my circumstances and the context in which I am living.  My young adult children come and go as they navigate their lives.  My parents and siblings live hours and many states away.  But in my longing along with the necessary realism, I am reminded why I am called to the work of serving faith communities.  At church, we build family.  We create scenes.  We are many generations.  Sometimes we all gather in one room.  Children draw and they play.  People sing while others play instruments.  We invoke the names and faces of those who are not, can not be present.  Sometimes we go to where they are to sit on the edge of their bed and hold their hand.  While maybe not everyday and all the time and all in one place, everything and everyone is here, together.
In the next month, here are just a few ways and configurations to take part in a colorful, detailed scene of what it means to be together as a multi-generational community:
October 14th (Sunday):  5 - 7 PM:  the first SECOND SUNDAY for all ages! Sign up here -- deadline is today!
October 17th (Wednesday):  4 - 5:30 PM:  Intergenerational Book Group
October 24th (Wednesdays):  7:30 - 8:30 PM:  Earth Vespers
October 27th (Saturday):  2 PM:  Hike to Dungeon Rock, Lynn Woods, Mass. (Pennybrook Road Entrance)
October 28th (Sunday):  9:15 AM and 11 AM:  Intergenerational Worship:  Blessing of the Animals