The Unitarian Universalist Church of Reading offers formal Faith Development (FD) explorations to our young people from age four to grade 9, nursery care/play space for babies and toddlers, and youth ministry opportunities and youth group for grades 9 to 12. Faith Development classes meet on Sunday mornings. Please see group/class descriptions for time and location. Classes are held in Sawyer House and Loring House, buildings adjacent to our Sanctuary. Nursery care/play space for babies and toddlers is available during the 9:15 worship service.
Registration is open! This simple step is required for children and youth to participate so that teachers and leaders can know your child.
Register your child now for the September 2012 to June 2013 church year. A form filled out and signed by the child's parent/guardian is required for a child to attend Faith Development programs. This is the first way that your child is known and welcomed into the community. If there are particular ways that your child's uniqueness and special needs can be accommodated so that his/her experience is as positive as possible, please note details on the registration form or arrange for a direct conversation with the Director of Faith Development.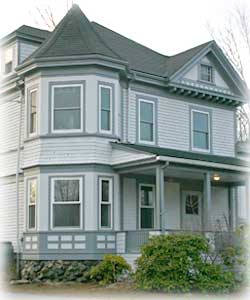 Our Cooperative Program
We welcome adults at every life stage to be spiritual guides for our children - not just parents! At UUCR, we embrace the opportunity for children to come to know, love, and trust adults in the community who are not their parents. Parents volunteer in groups of children and youth, younger and older than their own children. Many adults who lead in the classroom discover a renewed sense of community, engagement and learning that is nurturing and inspiring. It is this intergenerational culture that allows us truly to live into the reality that our village raises the child.
The home is the primary place of learning about life and big questions that are part of every child's journey. Therefore parents - children's first spiritual guide - are encouraged to participate and volunteer in congregational life.
What Do Children Learn in a Unitarian Universalist Church School?
The vision of Faith Development explorations is to create a place of belonging and a stimulating experience for your child that nurtures her or his spiritual development. Using a variety of curricula that includes rituals, stories, discussion and activities, children are guided through four strands of age-focused development - ethical, spiritual, Unitarian Universalist identity, and faith. Church becomes a special and crucial place in a child's life where he or she is respected and cherished as an individual while learning their essential, interdependent role in the community. Your child will be challenged to develop his or her own answers to wonderings and questions while listening to, appreciating, and supporting others. This happens through worship, celebration, learning experiences, community engagement and participation in a variety of traditional holidays and rituals.
Families are part of monthly intergenerational worship services where values are affirmed and explored in ritual, music, stories, prayer, and poetry. New this year will be monthly "Second Sundays," a time for families and all ages to experience Faith Development together!