Social Action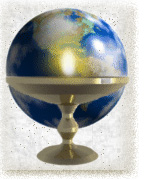 To the world you may be only one person...
...but to one person, you may be the world.
The Social Action Committee plans social justice programs, including offering educational forums and speakers, advocacy, raising money through Second Offerings, and providing volunteer opportunities. We also serve as a link to the UU Service Committee and the UU Urban Ministry.
Our Mission
Our Social Action work is an expression of our Unitarian Universalist principles in action. We effectively address social justice issues at local, regional and global levels, raising awareness within the church community and inviting participation of all those who are able.
Come and Inspire Us
If there is a critical issue you feel strongly about, this is the place where you can get the support and encouragement to put your passion into action.
Programs
Here are some of the things we do:
Direct Action
Hands-on involvement in social action projects such as
Educational Forums
Informing on topical issues such as
Advocacy and Witness
Supporting issues such as
Second Offerings
Providing financial support for organizations doing important work such as
"Make a Difference" Sunday in Lowell - April 27, 10:30 AM - 12:30 PM
Calling sturdy Unitarian Universalists of all ages! We need a dozen folks to help get a new community garden up and running in Lowell. Last fall, thirteen of us spent a wonderful morning clearing brush and planting tulips with our church's "Helping Hands" partner, Mill City Grows: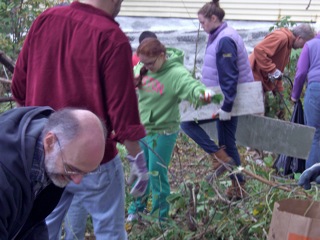 We had a great time hauling brush, chopping down trees, getting dirty and seeing amazing progress….Neighbors joined in and signed up for a garden of their own. We look forward to seeing them again!
You can see an existing garden of raised beds behind the fence and a gardener displaying his harvest. The new raised beds will go right where we are sitting!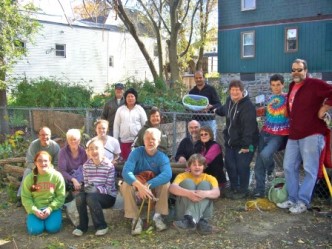 Come join the fun, the good work and the warmth of community! We will meet in Fellowship Hall after the 9:15 service. Please sign up so that the Mill City Grows folks can count on us. A sign-up sheet is in the Atrium, or you can call the office at 781-944-0494.
CSA Program is Back!
Once again, we are sponsoring the World PEAS CSA. Kate Petcosky, CSA representative, will be here May 4th to explain the program, which is beneficial to subscribers and the farmers. There will be at least 20 weekly deliveries to Loring House porch. A variety of fresh fruits and vegetables will be delivered, starting in June, through October. A small share, enough to feed 2 adults, will cost about $27/week. Large shares will also be available for $40.25/week. Brochures are available on the table in Fellowship Hall.
We will need 25 subscribers to continue this program, so we would appreciate your prompt response if you think you will be interested. For more info, contact me at This email address is being protected from spambots. You need JavaScript enabled to view it. or www.worldpeascsa.org. We are also considering an arrangement with a farm which will deliver pastured meat.
PLEASE contact me if you are willing and able to help me with the logistics of this program. There are perks!
- Devika/Ellen Hill
Linen Drive for Mission of Deeds, now to May 3
Please contribute to a Linen Drive for the Mission of Deeds!
A box has been set up in the church atrium to accept contributions for the Mission of Deeds, a local organization that provides household essentials for people in need. The organization especially needs contributions of new or gently used sheets, towels, and blankets, along with pots and pans in good condition. The drive is the Eagle project of Karl Hersh for Boy Scout Troop 702. The box will be picked up on Friday, May 2. On Saturday, May 3, Troop 702 will help accept donations at the Mission of Deeds, 6 Chapin Street, Reading, from 9 am to 3 pm.
Louis D. Brown Mother's Day Walk for Peace - Sunday, May 11
A congregational invitation for young and old and in between - the Mother's Day Walk for Peace in Dorchester on Sunday, May 11 at 8:00 AM. This 3.6 mile walk supports the healing work of the Louis D. Brown Peace Institute, providing support to survivors of homicide and to instill the values of peace in young people. This is our fourth year of participating!
Registration is free but donations are accepted both online and on the day of the event. You can pre-register at http://www.mothersdaywalk4peace.org/ or you can register on the day of the walk.
This event starts at Town Field Park, Fields Corner, 1520 Dorchester Avenue, Dorchester, MA. Registration Begins at 7:00 AM. Remarks start at 8:00 AM. Walk begins at 8:30 AM and takes about 1.5 hours to complete. Closing remarks are at 10:00 AM. Join us!
So we know how many are walking, please sign up in the atrium during coffee hour or call the church office at 781-944-0494.