Chalice Circles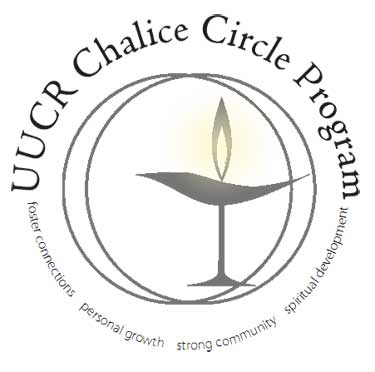 foster connections · personal growth · strong community · spiritual development
What is a Chalice Circle?
Chalice Circles are small (typically 8-10 participants) groups, led by trained facilitators that meet twice monthly for 1 ½ hours. The format of the group consists of a brief reading, a check in among the members, a longer reading, and a discussion of members' reactions/reflections/thoughts about the readings. Topics over the years have ranged from world religions to more personal topics such as friendship, community, nature, etc. The Chalice Circle is a more intimate place to get to know one another at the same time as providing the opportunity to explore meaningful topics with other members of our community. 
Who Can Join?
Chalice Circles are open to anyone who wants to participate. We also leave a chair open at every meeting in case someone wants to join us during the year. All that is asked of you when you join a Circle is to make a commitment to try to get to all the gatherings. Groups typically run from November through June and meet different days of the week and at a variety of times during the day and evening.
One Chalice Circle meets "virtually" via a conference call. A facilitator will provide each member with a special phone number so that they can call into the circle during the designated meeting time every two weeks. This is a perfect option for members who aren't able to participate in person and want to stay connected; members who have difficulty getting to or sitting through a circle because of a life challenge, folks who travel or even new parents. The format and topics are the same as with the other circles.
If you are interested in joining a Chalice Circle, you can register on-line by clicking HERE or contact Chalice Circle Coordinator Jean Hanson (781-779-1382) or Reverend Tim Kutzmark (781) 944-0494. 
---
"People come to our churches to be lifted out of the ordinary, to be drawn up from the mundane, and to seek relief from the omnipresent materialism of our culture." -Rev. Bob Hill, UUA SW District
"I am so glad this program is here, I have been waiting a long time." -Ruth, UUCR member 
---
Size: Typically 8 - 10 participants
Meeting: Generally twice a month in someone's home.
Format: All groups follow same format of: Chalice lighting, opening reading, reflection, personal check in, topic discussion, closing checkout and closing reading. Gatherings runs 90 minutes.
Facilitator: Each group is facilitated by trained person who will meet in a circle with other facilitators and Rev. Tim Kutzmark for ongoing support and training.
Empty Chair: Always kept in circle to symbolize those not yet reached, Circles are always open to new members.
Covenant: During one of early meetings each circle will agree on a behavioral covenant; how members wish to be with each other.
Chalice Circle Goals:
LOVE ourselves and each other;
LEARN about the mysteries of our world and our spiritual paths;
SERVE our community and the needs of one another;
MAINTAIN personal connections and a caring community with and for members of our group 
Would you like to join the Chalice Circle Writing Team? Are you one of those people who love to read and think about meaningful topics, but you never find the time to do so? Do you also manage to get to things only when you are meeting with a small group? Then please consider joining the writing team for Chalice Circles. 
Brian Kohn will be coordinating the team that prepares the sessions. Most of the work is done on your own time, collaborating via email, finding and reviewing the readings selected and crafting questions for participants to consider. The writers also meet monthly with the facilitators in a Chalice Circle lead by Reverend Tim or his associate. 
If you want more information about participating in the writer's group, feel free to call Brian Kohn (781-272-5176) or Jean Hanson (781-779-1382) to talk more about it.